Objectives
Graduate
Attributes
Engage in self- and life- long learning.
Design and supervise the construction of industrial schemes.
Design a system; component and process to meet the required needs within realistic constraints.
Perform operation, control, and maintenance of industrial schemes.
Demonstrate knowledge of contemporary engineering issues.
Program
Educational Outcomes
Program
Outcomes
After completion of the programme the Post graduate will:
PO 1
Domain knowledge: Acquire in-depth theoretical and technical competence in power electronics and electrical drives discipline
PO 2
Problem analysis: Analyse and understand the requirement of power electronics and electrical drives system.
PO 3
Conduct investigations of complex problems: Exhibit skill and knowledge to perform experiments and operate latest instruments required for research.
PO 4
Modern tool usage: Model and implement the power electronics systems with the help of mathematical and simulation tools.
PO 5
Environment and sustainability: Examine global environmental problems and critically evaluate evidence to formulate and organize sustainable strategies.
PO 6
Ethics: Apply harmonies principles and entrust to professional ethics and responsibilities of the power electronics and electrical drives practice.
PO 7
Individual and team work: An ability to evaluate critically one's own action and work and make decisions by considering professional and social responsibilities.
PO 8
Communication: Ability to write and present research to a technically literate audience by means of research article, presentation or a written report/thesis.
PO 9
Life-long learning: Able to put together and evaluate the problems and data base from a variety of sources by appealing in lifelong learning.
Program
Specific Outcomes
<
After completion of the programme the Post graduate will:
PSO-1:Able to understand various power electronic and electrical drives system and subsystem related to power conversion, power modulation and power quality maintenance.
PSO-2:Able to select appropriate converter for various power conversion systems like electric motor drives, renewable energy systems and other industrial and domestic applications.
PSO-3:Able to design, analyze and simulate various power electronics converters, control techniques, systems and subsystems.
PSO-4:Able to get hands on experience of power electronics and drive system and innovate them to leads towards the research and industrial work.
Faculty
profile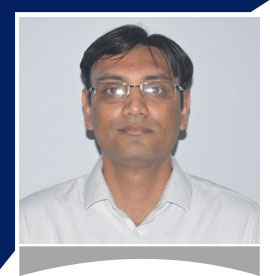 Scope
Electrical Engineering is a core and evergreen branch of Engineering.
There is a huge demand of electrical engineers in developed & under-developed countries for power generation, power transmission, power distribution, manufacturing units and research in renewable energy sources.
The Government of India is taking keen interest in promoting renewable energy resources.
It clearly indicates that the future of power sector in India is excellent in the field of "Green Energy".
According to the current scenario; career in electrical engineering is considered as hopeful in government as well as private sectors.
Prominent alumni of the department are working with well known organizations like PGVCL, GETCO, Reliance Industries, Nayara Energy, Nirma, Tata Chemicals, TCS, ABB, L&T, Suzlon etc.
Atmiya University always encourages and supports the students to become Aatm Nirbhar(entrepreneur)!
Research
and Publication
| Sr. | Particular | Qty. |
| --- | --- | --- |
| 1 | Publication in International Journal | 7 |
| 2 | Publication in International Conference Proceeding | 17 |
| 3 | Publication in National Journal | 2 |
| 4 | Publication in National Conference Proceeding | 22 |
| 5 | Best Research Paper Award | 7 |
Event
| Sr. No. | Event Name | Event Date | Photo Gallery |
| --- | --- | --- | --- |
Department
Infrastructure
Placement
Achievements